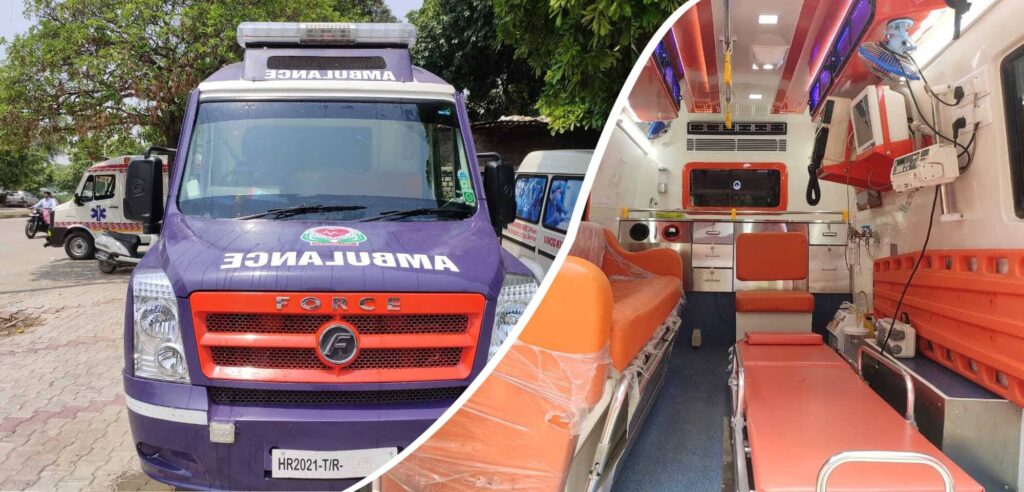 Global Criticare ambulance service in Panchkula is the best service out of significant ambulance services. We at Global Criticare ambulance services give curative aids in areas that have some risks associated and have some health emergencies. Ambulance services in Panchkula are the best services as we specialize in providing medical emergencies, curing, and supporting patients in urban as well as remote areas. We respect the requirements of the people and work on them effectively as per the demands for better services. 
Constructive Ambulance Services Panchkula
Ambulance services in Panchkula associate you with various advantageous factors which help you meet various emergencies and other health problems. Some of the basic benefits which are associated with Global Criticare Ambulance Services are: 
We give you Bed to Bed patient transfer.

We offer reasonable prices for our clients.

Global Criticare has experienced professionals in terms of medical support, so we offer stress-free patient transportation.

Offering On-call assistance for better outcomes.

The ambulances we provide are spacious enough and make you comfortable in all aspects.

Providing comprehensive services 24*7.
When we talk about medical assistance needs, everyone should opt for Ambulance services to reduce the factor of risk. As when you opt for ambulance services, you opt for the safety of the patient. When you choose Global Criticare ambulance services, you are at the best place to secure safety and comfort for yourself. 
Salient Features offered by Global Criticare Ambulance Services in Panchkula
Global Criticare ambulance services provide you with vast features which help you have the sorted medical emergencies in place. Some of the best features we offer are based on different types of ambulance services with Global Criticare these are:
Basic life support ambulance services

Advanced Cardiac life support system ambulance services.

Ambulances are well equipped and have trained professional medical staff.

Ambulances for different purposes like event management and other corporate services.

We understand that ambulance drivers play a significant role in the transportation of the patient, so we have well-trained professional drivers for safe and secure transportation.

We also offer some other services to assist you in almost everything you may need in terms of ambulance assistance like Road Ambulance, Air Ambulance, and Emergency Medical Assistance.

We are just one call away and available for you 24*7. 

Global Criticare ambulance service provides you with enhanced facilities to meet the requirements wisely.

We also offer generous organ transfer services as per the needs of the people.
 Types of Equipment We Offer in Our Ambulances
Neonatal Incubator

IABP(intra-aortic balloon pump )

Spine board

Nurses

Ac ambulances

GPS Tracking

Cardiac Monitor

Oxygen Cylinder

Wheelchair onboard

Stretcher

Defibrillator

Ventilator 

Syringe pump
Services We Abide
Critical Care Ambulance Services

Motorcycle Ambulance Services

Commercial Air ambulance service

Private Air ambulance Service

Medical Escort Service

Ambulance Services

Ventilator Ambulance in Panchkula

24 Hours Ambulance Services

Air Ambulance in Panchkula

Ground Ambulance Services

ICU Ambulance Services in Panchkula

Oxygen System Ambulance Services

Municipal Ambulance Services

Cardiac Care Ambulance Services

Ambulance Services For Corporate

Ambulance Service For Events

Ambulance Service For Film Shooting

Freezer Ambulance Service in Panchkula

Private Ambulance Service in Panchkula
The hospitals served by Global Criticare Ambulance services in Panchkula
We have served various reputed hospitals in Tricity. We serve the best of our reach to all the needed patients. We understand the needs of the patients immediately and effectively work on the criteria for providing the best services to you. The major hospitals we have been serving since 2012 are Fortis Hospital, Mohali, Max Multi-speciality Hospital, Mohali, Shivalik Hospital, Mohali, Grecian Superspeciality Hospital in the Mohali region.
We offer a great ambulance network in Tricity. We have our best ambulance services in Panchkula, ambulance services in Mohali, ambulance services in Chandigarh, ambulance services in Zirakpur, and ambulance services in Kharar. We also offer some of the areas that are ambulance services in Ropar.
Why do people choose Global Criticare Ambulance Services?
People in Tricity have great trust in Global Criticare ambulance services. We offer the best services at your end that is the major reason people choose out Global Criticare Ambulance services.
Some of the reasons that make you choose us are:
We are the best ambulance service in Panchkula with our facilities both in urban and remote areas of the region.

We offer reasonable prices, so it is easy for everyone to access the best ambulance services in Panchkula i.e. Global Criticare services.

We have our service available to you 24*7. We offer the best services, taking care of the needs of the people.

We offer life-support facilities in our ambulances like ventilators, respirators, defibrillators, suction pumps, etc.

Also, we have ambulances including ACLS, BLS, QEV, and PLS vehicles.