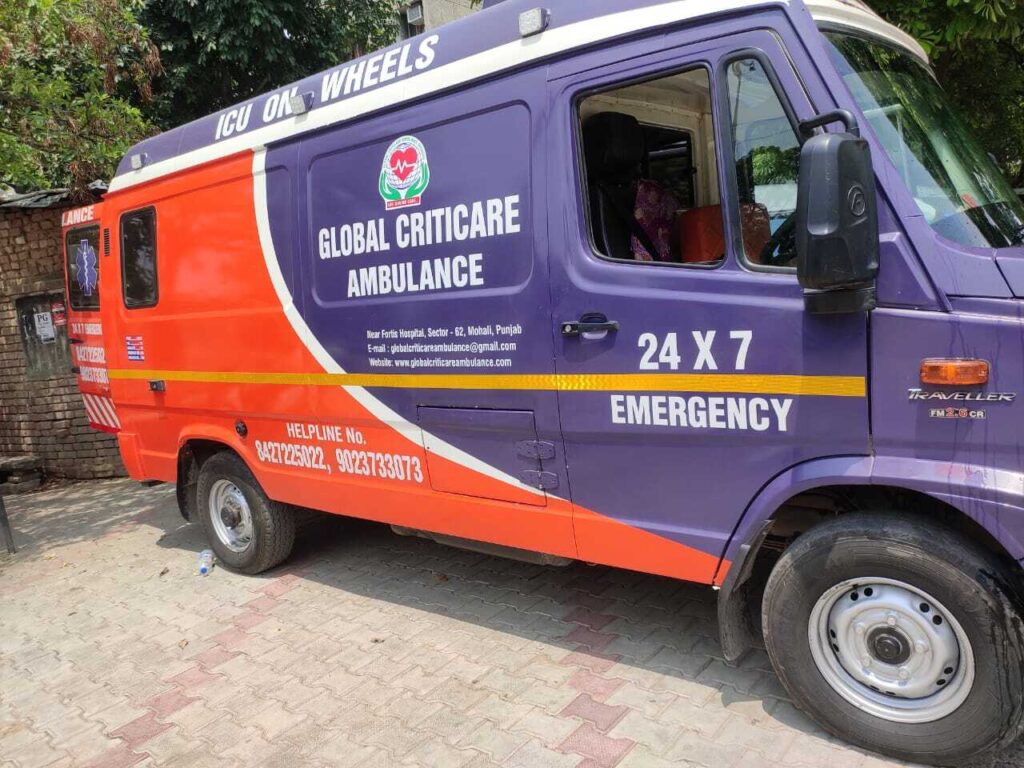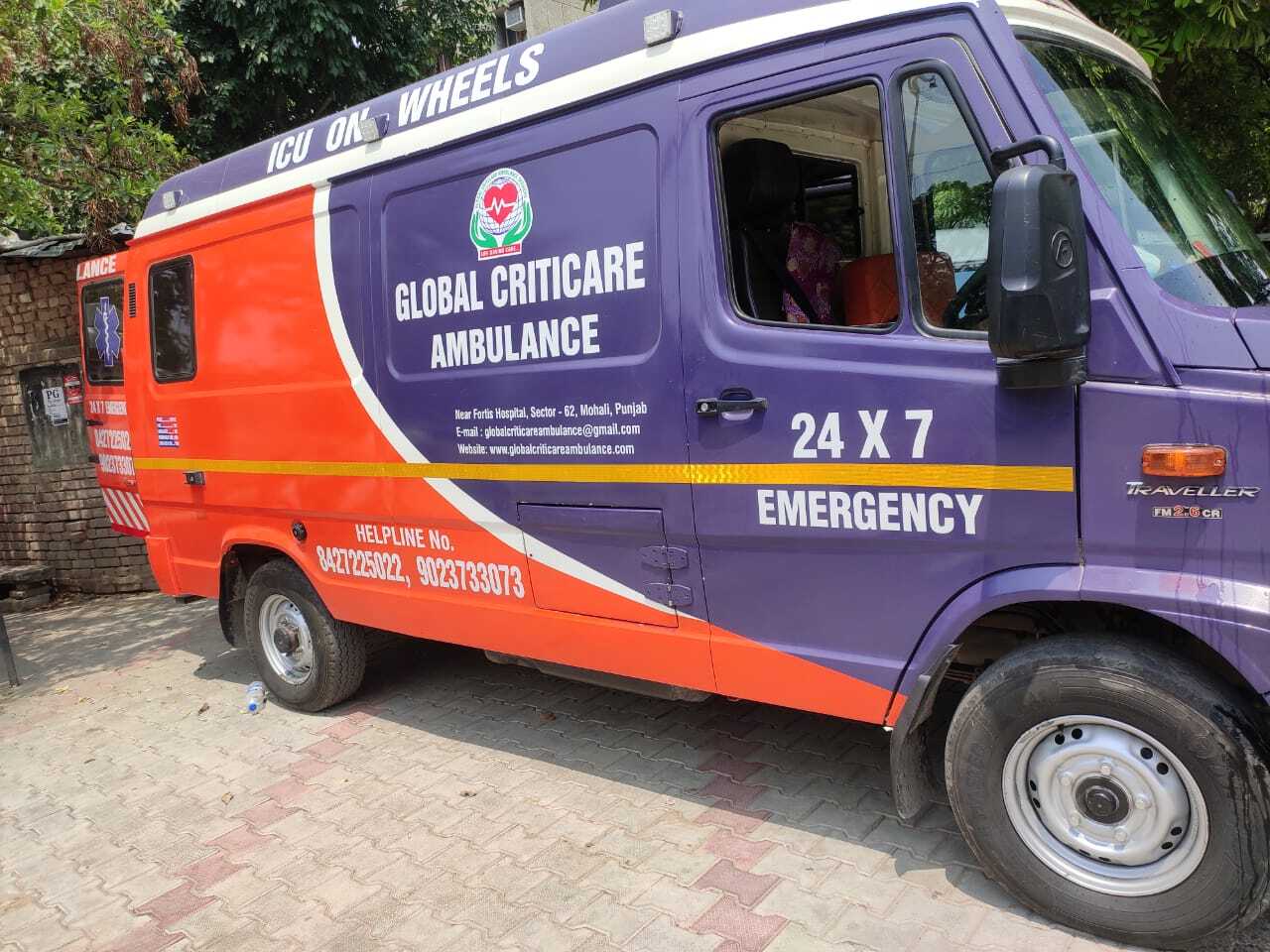 Best Ambulance Service in Mohali, Punjab – Safe, Instant, and Clear Headed. Global Criticare Ambulance service in Mohali is equipped with the latest tools and technologies required in critical cases. We prepare ourselves for the worst conditions. Global Criticare Ambulance services, Mohali assists you with the bed to bed services., Immediate actions, best retrieval management of patients, and is cost-effective. Our ambulances have life-saving tools like cardiac monitors, CPR machines, Climate Control Systems, portable power supplies, oxygen cylinders, ventilators, and, respirators, etc.
We have been offering our services since 2012 in various hospitals of Tricity. We have a great network of ambulances in Tricity, usually Ambulance service in Mohali, ambulance service in Chandigarh, ambulance service in Panchkula, Ambulance service in Zirakpur, and Ambulance services in the Kharar region. Some of those prestigious Hospitals which we serve in Tricity are Max Multispeciality Hospital, Shivalik Hospital, Fortis hospital, and Grecian Hospital.
How to Contact us?
As increased internet facilities have made things more easy and safe especially in critical medical conditions. Now you are just a click away to get the number of the concerned ambulance service. We at Global Criticare Ambulance services in Mohali are just a call away and act immediately to the situation to keep you safe. You can freely contact us in case of emergency at +(91) 84-2722-5022 and +(91) 90-2373-3073.
In case of appointments, you can also get in touch with us at info@globalcriticareambulance.com.
Our Best generalized Services
Road Ambulance

Air Ambulance

Emergency Medical Assistance
Key features of Global Criticare Ambulance Services in Mohali
We are based on the best technology, so we offer high-tech CCU and ICU setup in Ambulances.

We offer you the best oxygen supply systems in ambulances.

We have Portable ABG machines, with AED and Defibrillator.

We offer you Ventilator services, and various central line sets.

We offer you maximum-size oxygen cylinders as per the needs of different patients.

We offer you safety and security all the way. As we have CCTV cameras, Refrigerators and other needfuls inserted in the Ambulance.

We are one call away from you, with 24*7 availability of our service.

We offer bed transfer for the patients, to give them a comfortable environment.

We have various ICU medicine, ICU alpha beds, and Multiple infusion beds facilities in all our ambulance services.

We have highly equipped and comfortable Ambulance services with AC availability.

CPAP, BIPAP, and Intubation set available for your assistance.
We avail you with certain Benefits
Cost-effective Ambulances

Stress-free service

Well equipped Ambulances

Bed to bed transfer of the Patients.

24*7 availability of Ambulances

Professional and experienced Staff

Offering climatic-control ambulances

Fastest approach

Proper Organ transport services

Medical accompany to the patients

Also, providing Infant Transportation services in our well-equipped ambulances.

We provide all kinds of patient retrievals that are emergency as well as non-emergency services.

State of art facilities. 

Just one call away from you.

Giving the best-needed care to our patients.
We are the best Service providers: Ambulance Services in Mohali.
Offering you the best Ventilator Ambulance in Mohali.

24 Hours Ambulance Services in Tricity

We also avail you with Air Ambulance Service in Mohali

We can get you the best Ground Ambulance Services

ICU Ambulance Services in Mohali

Oxygen System Ambulance Services

Municipal Ambulance Services

Various Cardiac Care Ambulance Services

We assist you in Ambulance Services For Corporate

Ambulance Service For Events

Ambulance Service For Film Shooting

Critical Care Ambulance Services

Motorcycle Ambulance Services

Commercial Air ambulance Services

Private Air ambulance Service in Mohali for all the needfuls

Some Medical Escort Services

Freezer Ambulance Service in Mohali
Types of equipment provided by Global Criticare Ambulance Services in Mohali
We offer you various equipment that is needed in an ambulance to have a better and safe experience. Many critical conditions need instant treatment while going to the hospital. So we offer you all the equipment that may be needed in any of the conditions from normal to extreme conditions.
These pieces of equipment are:
Wheelchair onboard

Ac ambulances

GPS Tracking

Cardiac Monitor

Oxygen Cylinder

Stretcher

 Defibrillator

Ventilator 

 Syringe pump

 Neonatal Incubator

 IABP(intra-aortic balloon pump )

 Spine board

 Nurses
Quick Recap of Global Criticare Ambulance Services
Qualified Doctors

24/7 Ambulance Availability

Basic & Advanced Life Support

Cardiac Ambulances Cardiac Ambulances

Pacemaker Facility Pacemaker Facility

Bed to Bed Service Bed to Bed Service
Essentials about Global Criticare ambulance services in Mohali
Early Detection

Effective reporting

Quick Responses

Acting better to stabilize the patient's condition

Providing Special care for the patients in both emergency and Non-emergency conditions

Skilled and trained medical Staff

Years of experience in ambulance services in Mohali

Available in every corner of Tricity.

Also available in terms of disaster management whenever needed.

Helpful in trauma emergencies

The right help at accurate timings is our priority

Leading brand in terms of ambulance services in Mohali.