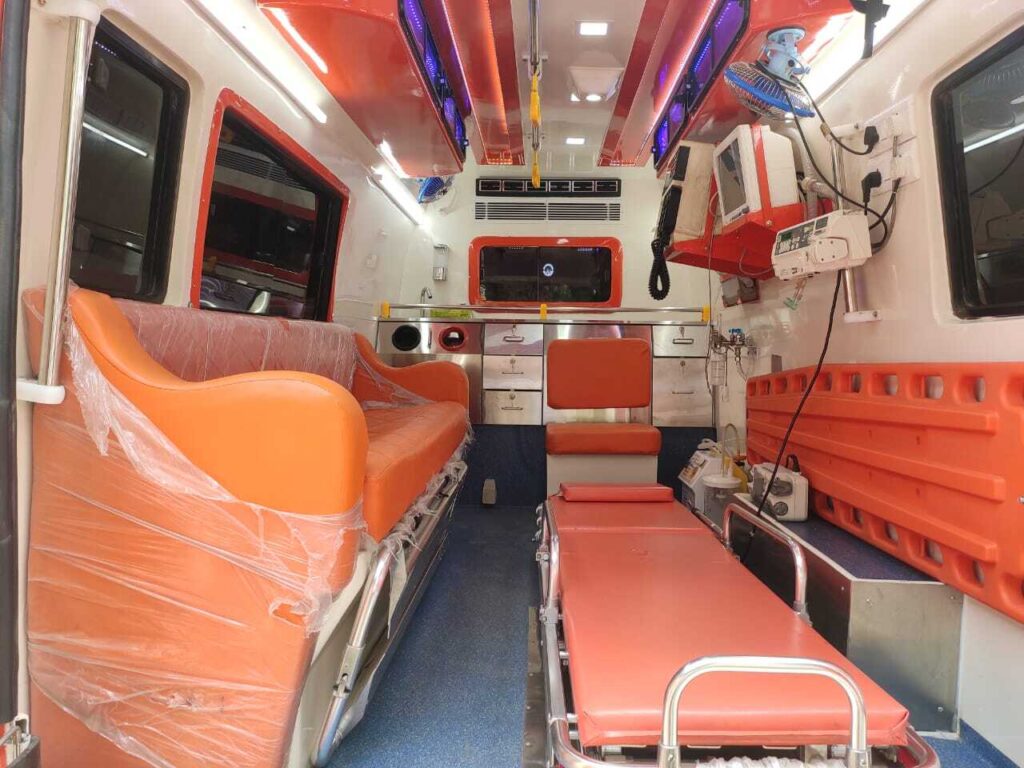 Are you looking for the best Ambulance Services in Zirakpur? You are firmly at the right place for the services related to medical assistance in terms of ambulance services. We at Global Criticare Ambulance services provide well-equipped ambulances for all conditions as critical conditions majorly need immediate assistance, so the ambulances need to be appropriately equipped and should have well-defined nursing staff and doctors for the immediate help of the patients. Also, the ambulance drivers at Global Criticare ambulance services pursue proper training according to all the conditions that can be part of ambulance driving. 
Things become complex when you do not get the ambulances on time and with the needful equipment. It can therefore cause a life risk to the patients. All you need to do is understand the problems and immediately get in touch with the ambulance services like Global Criticare ambulance services to reduce the possibility of life risk. We are termed as the best ambulance services in Zirakpur because of the quality and immediate services we are providing.
Global Criticare Ambulance Services in Zirakpur are just a Call Away
Global Criticare Ambulance services have made things much easier for people as we design the things in a way that you get all your assistance from normal aid to the critical help needed. There are indeed very few ambulance services in Zirakpur which provide 5he facilities even for critical conditions. As with Global Criticare ambulance services you can get assistance in the ambulance only so that the condition can get better till reaching the hospital. At least priority things which are needed to resolve immediately get the assistance as required and does not create hassle afterward.
Global Criticare is known for its best services which help in providing all possible aids in the ambulance itself to make things easier and the risk to life is also decreased. Saving a life is possible only if you meet the critical requirements wisely and timely. We understand your pain and eagerness to reach hospitals to get things right. So, we make the formalities to the minimum possible way and assist you with all the equipment needed even for the critical patients. And give the initial treatment to the patients by the best doctors so that things don't get worse. That makes us the leading ambulance service in Zirakpur.
Locations Served by Global Criticare Ambulance Services
We are majorly placed in Tricity serving various urban and even remote areas. We are the best ambulance services in Tricity serving you with quality, effective and immediate responses. 
The various locations are:
Ambulance services in Zirakpur
'Ambulance services in Kharar
As we are the leading brand in terms of ambulance services, so we provide the best-required services. Not only these many prestigious hospitals are also served by Global Criticare ambulance services in Tricity. In the other regions, we are serving as Ambulance services in Ropar. 
Some of the hospitals served by Global Criticare ambulance services in Tricity are:
Max Multispecialty Hospital

Shivalik Hospital

Fortis Hospital

Grecian Super-specialty Hospital
Some of the Swift facts about Global Criticare Ambulance Services
Global Criticare is termed as the best ambulance service because we provide Qualified Doctors for your assistance.

We at Global Criticare ambulance services are available for you 24/7, and we are just one call away from you as we act immediately.

As we have well-equipped ambulances, we provide both Basic & Advanced Life Support.

The best ambulance services near you provide all kinds of assistance in terms of Cardiac Ambulances.

Ambulance services provided by Global Criticare are the best even in case of critical conditions as we also provide you with Pacemaker Facilities.

 Understanding the needs and the pain of the patients, we at Global Criticare ambulance services provide you comfortable Bed to Bed Services.
Types of equipment we offer in our ambulance Services
We provide the best Cardiac Monitor to access the relatable facts.

Providing Oxygen Cylinder in case of breathing problems and other related aspects.

Offering Defibrillator, Ventilator in case of emergencies related to it.

Stretcher 

Syringe pump

Neonatal Incubator

IABP(intra-aortic balloon pump )

Spine board

Paramedic/Nurses

Wheelchair onboard

Ac ambulances

GPS Tracking
 Are all the services that we provide in the best possible way leading to better patient handling.
Best Services at Global Criticare
Ambulance Services

24 Hours Ambulance Services

Ground Ambulance Services

Oxygen System Ambulance Services

Municipal Ambulance Services

Cardiac Care Ambulance Services

Ambulance Services For Corporate

Ambulance Service For Events

Ambulance Service For Film Shooting

Critical Care Ambulance Services

Ventilator Ambulance in Zirakpur

ICU Ambulance Services in Zirakpur

Motorcycle Ambulance Services

Commercial Air ambulance service

Private Ambulance Service in Zirakpur

Private Air ambulance Service

Air Ambulance in Zirakpur

Freezer Ambulance Service in Zirakpur

Medical Escort Service